Semen for sale licenced for export: Parawanga Anzac Legend, Parawanga Tenacity, Red Hill Rocky.
Semen for domestic sale - see sires below

$25 per straw
$20 more than 10
$15 more than 1000
Registration $35 extra
(domestic sales add GST@ 10%)

Click on photos below to view larger image
Top sires used include Cungelella High Flyer (Swan Baron), Elanora Argo (Wingfield Nemo), Halcyon Denzel (Glenlands Elway), and Truvalle 2498 (Wingfield Krypton) Billabong Neon, Parawanga Downunder 2 (Cungelella High flyer) Imbil Neo (Strathfield Telesto) Parawanga Wynnum, Billabong Vaughn and Euluma Quality. We like sires with natural muscling, good temperament, and larger frame score. (Each sire below has a description beneath)
Cungelella High Flyer (semen for sale)
Cungelella High Flyer is one star for T1 tenderness and 8 stars for feed efficiency (1,600 straws of semen available) 90% of progeny sold for breeding. He goes with all types of females, adding stylish head with hooded eye, length and depth of hindquarter, and excellent temperament. Sire of Parawanga Downunder, supreme Champion at Roma, Gympie, Jnr Champion at Brisbane.
Billabong Alexander (Donating semen)
Billabong Alexander, $20,000, was purchased in 2013 at the Billabong bull sale to add scale and content but also polled genes to our herd. He is by Trafalgar Palestine and is donating semen for sale, at Cooper Downs, Banana.
Billabong Vaughn by Minlacowie Tyson was purchased at the 2011 Billabong sale for $8,000 in order to use over heifers at Ceda Valley. He is a very big-framed higher content bull with polled head, sleek coat and good bone. We wanted him to keep the content in our herd and and improve polledness and sheath in the bull calves without losing scale. Few polled bulls have such a tidy sheath
Parawanga Einasleigh by Parawanga Down Under 2 is the most perfect bull I have seen, with all the smoothness, bone, muscle, width and masculinity you could ever get as well as the ideal temperament. His first season calves are showstoppers
Billabong Neon sired by B. Gothica. ($16,000) 5 stars for tenderness, 3 for marbling and 7 stars for feed efficiency.
Billabong Neon is a 15 star bull with one star for each M1, M2, M3, T1, T2 and T3 and 2 stars at T4. His daughters are all very good milkers with well supported udders, and combine extremely well with P. DownUnder2. He adds content with good coat, ear and hooded eye, plus extra frame score and excellent temperament.
Limited domestic semen available. $50 per straw plus $50 registration.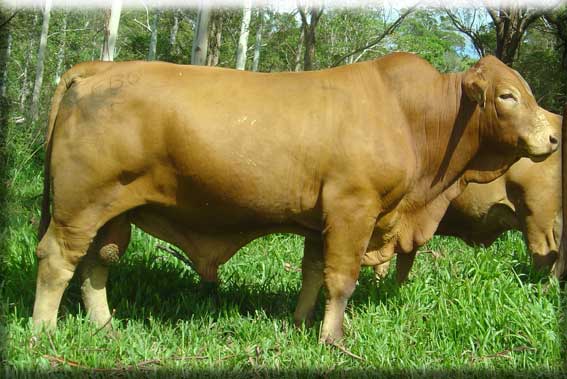 Parawanga DownUnder 2, a son of Cungelella High Flyer, a sire with great bone and width, massive jaw and incredibly quiet temperament.
Sire of the sensational Parawanga Einasleigh.
He breeds strong masculine sons one after another. Domestic semen available.
Imbil Neo sired by Strathfield Telesto ($70,000)
Mountjoy Saxby is a scurred 15 star bull with 2 stars at T1, T3, T4 and M2 and 1 star at M3 and 7 stars for feed efficiency.
He is out of a Minlacowie cow, and is very long and correct, with excellent thickness along the top line and through the hindquarter. Sire of Parawanga Barambah, multiple show champion. Domestic semen available.
Parawanga Anzac Legend, sired by Cungelella High Flyer. dob 10/1/04.
This Bull is a Genestar tested 12 star bull. (semen for sale lic. for export)
P. Anzac Legend is 4 stars for tenderness, and 8 stars for feed efficiency.
2,000 straws of semen is NOW available (domestic or export) He has excellent soft natural muscling, and great temperament.
Elanora Argo dob is 18/4/02 sire: Wingfield Nemo.
Halcyon Denzel sire Glenlands Elway.
Redhill Rocky dob 30.7.07 sired by Billabong Neon dam Parawanga Goomeri.
He has semen available NOW....approved for export to EVERY country.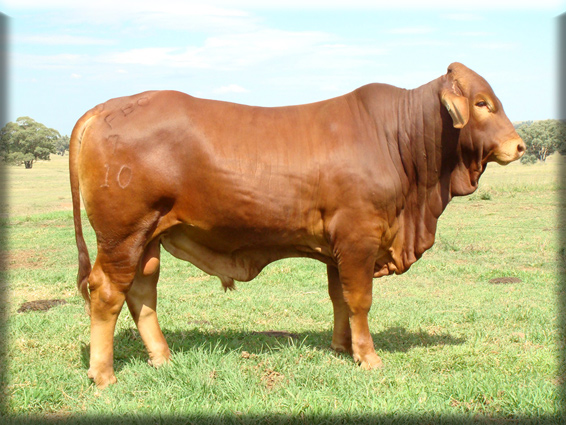 Parawanga Tenacity sired by Cungella High Flyer and dam Kandanga Charlie dob 7.10.07
He has semen available NOW....approved for export to EVERY country.
Parawanga Wynnum(Sc) by Billabong Neon is a very large-framed higher content sire used in our Ceda Valley herd for 3 seasons before sale. He won quite a few champion bull ribbons, and is exceptionally quiet and friendly with endlessly flowing dewlap and loose hide for maximal growth. His calves are the best line of bulls and heifers we have ever bred, and are mostly polls with very strong heads on the males and great femininity in the females. He always dominated in his multi-sire paddock and dropped a very large number of calves on the ground at the 9.3 to 10 month-after-joining stage.
Calaanah Eggnog by Billabong Winchester son purchased for his exceptional frame, sleek red coat and strong polled head along with great temperament.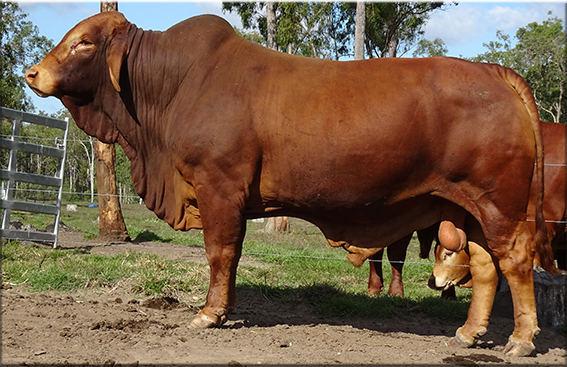 Minlacowie Vanderwolf 0447 has been used at KENMAY since 2019, for his very strong masculine scurred (HPc) head and heavier bone and width on a moderate frame. He throws darker red chunky calves with heavy muscling.
Parawanga Kolonga (pp polled), by Billabong Alexander over a higher content cow, is now also used at KENMAY over our moderate framed, horned cows in order to increase content, polledness and frame size. He has extra length of body and terrific depth of hindquarter and a great dewlap. For a polled bull, he has a very strong head and jaw.
TOP FEMALES
Parawanga Renita sired by Cungelella High Flyer. Most High flyer daughters show similar good content, good frame and big hindquarters.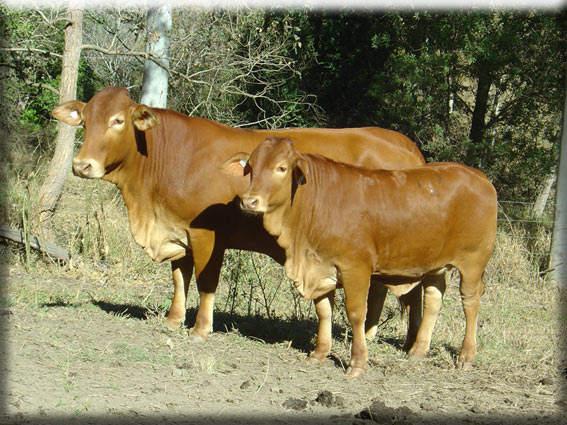 Parawanga Capella sired by Halcyon Denzel, Dam Parawanga Renita.
Capella was the champion Bos Indicus cow of the Maryborough Show 2007
and her calf Barambah by Mountjoy Saxby was double junior champion heifer at Maleny show 2007 and 2008.


Parawanga Roma, sired by Cungelella High Flyer. Aged 10 months.
Home page | About us | Cattle for sale b| Contact us


Website designed by Niki Brand. Call 0402 806 939 for a quote
©2021 All photos on this site are copyrighted.